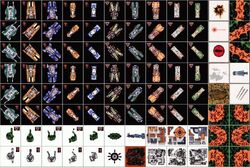 Counters, also known as "chits", are paper, cardboard or plastic playing pieces used to represent units and other items or conditions in a game. These differ from miniatures in that counters are generally show flat, two-dimensional images, though various early edition Renegade Legion Renegade Legion Boardgames boardgames featured counters that could be folded into box shapes to simulate 3D and depict views of the ship from the top, bottom, front, rear and sides.
Identifying Leviathan Counters
Edit
Battleships
Edit
Destroyers
Edit
Ad blocker interference detected!
Wikia is a free-to-use site that makes money from advertising. We have a modified experience for viewers using ad blockers

Wikia is not accessible if you've made further modifications. Remove the custom ad blocker rule(s) and the page will load as expected.