Far and Away: The Magazine of Speculative Gaming was a role-playing publication first published in April, 1990. Its premier issue featured an article for Interceptor.
Its entire run was two issues.
Issue #1 (April 1990) Articles
Edit
Planetfall by J. Andrew Keith (Megatraveller)
The Compleat Starport by J. Andrew Keith (Megatraveller)
Optional Movement System and Scenario for Robotech RPG
Non-Military Craft for Interceptor (Renegade Legion)
Putting More Punch into Starship Combat (Star Trek)
More
April 1990 ... 60 pages ... Pacific Rim Publishing
Issue #2 Articles
Edit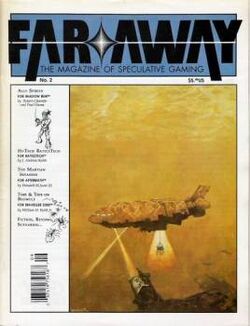 Time & Tide on Beowulf (2300AD)
Call to Arms, Scenario (2300AD)
Hi-Tech Battletech
Ally Spirits (Shadowrun)
You Are There, Scenario (Aftermath)
Beachcomber, Fiction by Mike Resnick
More
1990 ... 60 pages
Ad blocker interference detected!
Wikia is a free-to-use site that makes money from advertising. We have a modified experience for viewers using ad blockers

Wikia is not accessible if you've made further modifications. Remove the custom ad blocker rule(s) and the page will load as expected.