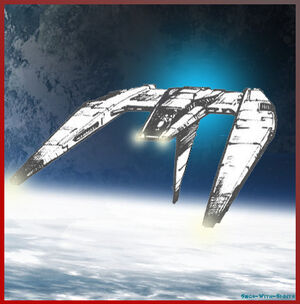 Spiculum
Class: Medium Starfighter
Operators: TOG
Mass: 127 tons
Cost: 2,708,600 talents
Engines:

Right Engine Rating (1,000)

Left Engine Rating (1,000)

Thrust: 8
Weapons:

Type (Location)


1 7.5/4 Laser (R Wing)

1 7.5/4 Laser (L Wing)

1 Hardpoint (Bow)

1 Hardpoint (R Wing)

1 Hardpoint (L Wing)

Crew: 1
Passengers: 0
Marines: 0
Extras:
Say "fighter" to any TOG citizen and the image that immediately comes to mind is the Spiculum. Sleek and deadly looking, the Spiculum is a publicist's dream. Any telecast of a battle has the obligatory shot of a Spiculum flying through the fiery debris of an exploding Commonwealth ship.
With all of this hype, cynics would automatically assume that the Spiculum is a mediocre fighter, but the reverse is true. The Spiculum has tremendous acceleration, good defensive systems, good secondary armament, and carries a considerable punch in the form of missiles. The high speed, light secondary armament, and heavy missile load is the result of current TOG tactical doctrine and fighter deployment.
Ad blocker interference detected!
Wikia is a free-to-use site that makes money from advertising. We have a modified experience for viewers using ad blockers

Wikia is not accessible if you've made further modifications. Remove the custom ad blocker rule(s) and the page will load as expected.