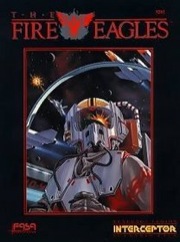 The Fire Eagles is a scenario pack supplement for the Renegade Legion Interceptor game, published by FASA in 1987.
It describes some of the deadly space battles in which the Fire Eagles have taken part. Included are dossiers on the members of the Fire Eagles, with briefing on their personalities, skills and personal backgrounds. There is also a unit history, combat readiness report and fifteen scenarios pitting the Fire Eagles against the Commonwealth.
Ad blocker interference detected!
Wikia is a free-to-use site that makes money from advertising. We have a modified experience for viewers using ad blockers

Wikia is not accessible if you've made further modifications. Remove the custom ad blocker rule(s) and the page will load as expected.